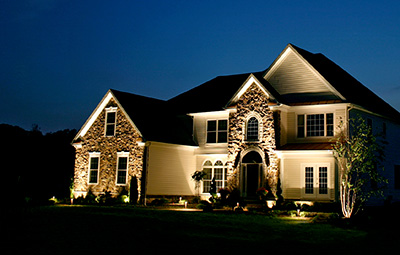 Landscape lighting is a wonderful way to enhance your property value and give you many more hours of outdoor pleasure and overall security. It can be eco-friendly with a low wattage system designed with LED fixtures. For the amount of wattage in one flood lamp we can provide great looking illumination throughout your property!
Since 1985, we have been installing and maintaining landscape lighting for commercial and residential customers in Dayton, Ohio. Our professionally designed and custom installed lighting systems will dramatically emphasize landscape and architectural accents that boost curb appeal, as well as surrounding your property with peace of mind.
We offer professional landscape lighting services to both residential and commercial customers:
LED landscape lighting
Deck and step lighting
Moonlighting
Path Lighting
Dramatic uplighting
Designer accent lighting
Automatic control timer
Low voltage lighting
Lighting maintenance
Whether you are a single dwelling residential customer or a corporate client with a large commercial property, we have the manpower and a highly skilled team that can handle your specific needs. Our team of professional technicians and installers will ensure that every job is completed in a timely manner with customer satisfaction as one of our primary goals.
Call us today at: (937) 433-7551 for a FREE Installation Quote or let us know how we can help get your current landscape lighting project looking nice once again.